Hot Sauce of the Month Club
Get the best artisan hot sauce,
delivered to your door each month.
Subscribe now to get the best hot sauce you've ever tried, shipped directly to your door each month. Choose 1 or 3 bottles per month, plans start as low as $12 per month,
and shipping is always FREE!
Membership Perks
Get free shipping on our entire online shop.
A great way to re-order favorites and explore our selection of over 400 flavorful hot sauces.
Get exclusive early releases on new sauces.
For example, our members got the award winning Lucky Dog Chipotle before it was released to the public.
Get bonus freebies each month.
In addition to tasting note cards, we include bonus items like sample packets and spicy candy.
Get a custom printable gift note.
For gift subscriptions, we email a customizable note you can print and give to the recipient.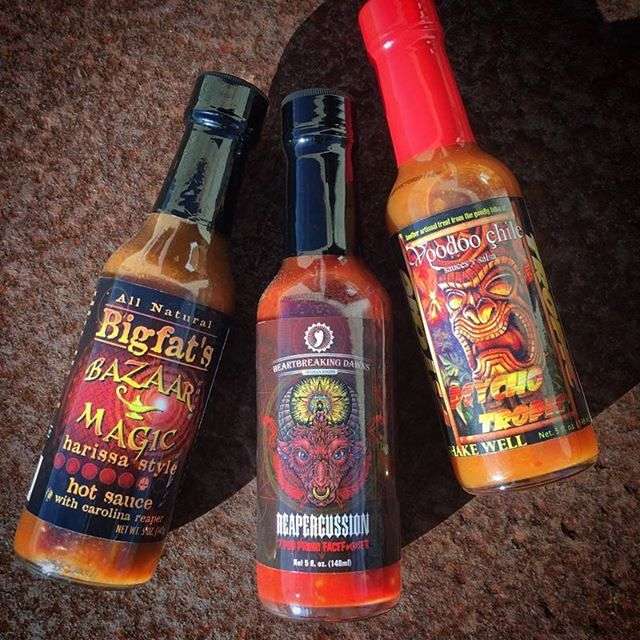 "We love it! My boyfriend looks forward to it every month. He puts sticky labels on each hot sauce with tasting notes and is a total geek about it."
- Elizibeth M.

"I have looked online at 'club of the month' products. This was the first hot sauce that I found made by individuals who actually specialize in hot sauce. My dad loves it!! He called me when his first bottle arrived, and told me how it tasted. He was skeptical at first when I told him about signing him up, but now, he looks forward to his sauces coming each month..."
-Jobina K.
Who We Are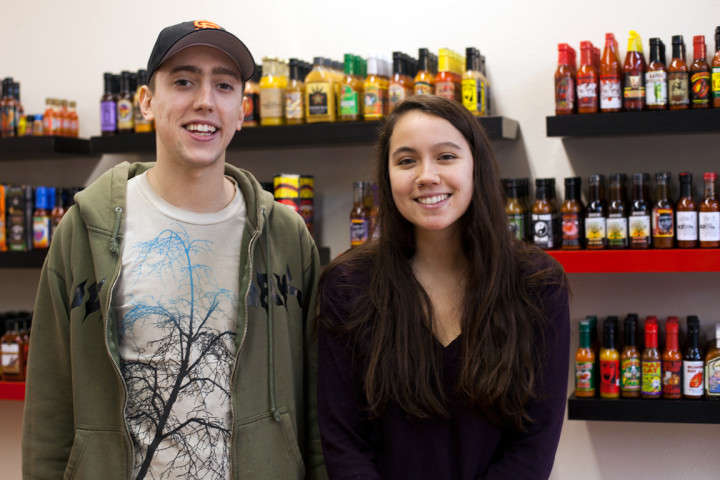 We are two young chileheads on a mission to share our passion for all things spicy. In 2013, we started Heat Hot Sauce Shop in Berkeley, where we offer daily tastings at our hot sauce tasting bar. Our experience giving tastings, going to hot sauce expos, and trying thousands of hot sauces has given us lots of insight into flavors people like, and that experience informs our monthly selections for the Hot Sauce of the Month Club.
Want to learn more about us?
Check out this
article in Berkeleyside
.

Frequently Asked Questions
When does my first box ship?
We ship your first box within a week of your order. After that, boxes ship on the 1st of each month. But if you need special arrangements, we're totally flexible. Just send us an email and we'll take care of it!

Do Subscriptions Automatically Renew?
It's up to you!
Gift subscriptions can be one-time purchases, or you can choose to have them renew. Subscriptions renew on the 12th of each month, but you can cancel anytime before the 1st and receive a full refund.

Do you ship internationally?
Yes, but we wish international shipping was more affordable.
For Canadian addresses, shipping is an additional $9.95 for 1 bottle memberships and $19.95 for 3 bottle memberships.
For all other countries, shipping is an additional $19.95 for 1 bottle memberships and $29.95 for 3 bottle memberships.

What if I move? Can I change addresses?
We make it easy for you. You can always update your shipping, billing, and subscription details on your account page, or shoot us an email and we will take care of it.

Can I buy a subscription and additional hot sauces at the same time?
If you want to become a member and also buy specific bottles of hot sauce, be sure to join the club first so that you get your free shipping code. Then buy all the hot sauce you want and it will be delivered along with the first shipment.

Can I choose what sauces are included?
No, join the Hot Sauce of the Month Club if you want to be surprised by a wide array of new flavors. If you'd prefer to choose which sauces you get, you can shop our
online store
.

Any other questions?
Don't hesitate to ask! We generally respond to emails within an hour, but we try to reply within 5 minutes if we can. E-mail us at manager@heathotsauce.com, or call 510-849-1048.
Ready to Join?
You'll have the tastiest artisan hot sauces delivered to your door in no time!
Join Now